KATE IS IN NEPAL!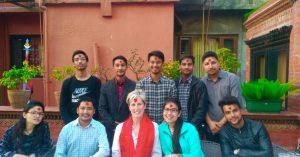 Kate is in Nepal meeting up with all our 6 medical students and our 3 qualified doctors. Part of her reason to go to Nepal now is to welcome our new medical scholarship student Jeevan into the DFN family.
Who's who?!
BACK ROW L-R: Jeevan, Dhanendra, Nahakul, Purna, Prakash.
FRONT ROW L-R: Apsara, Lalit, Kate, Meena, Kamal.
Look out for Kate's blog all about her trip and how our DFN medics and nursing students are doing.